Hey everyone! Today I'm sharing one of my new designs for fall, the Velvet Dream Super Plush Crochet Circle Scarf. This chunky, squishy infinity scarf is seriously SO soft- I used some new velvet yarn from Hobby Lobby's Yarn Bee line and it's the real deal! It's a bulky weight (category 5) yarn that feels light in the skein but works up thick and heavy. I used the Olive colorway, which is a kind of hunter green that has a beautiful mossy look to it. This scarf uses basic crochet stitches and works up in a thick panel, meaning it's perfect for keeping out cold drafts on chilly days, and the fluffy velvet texture retains heat surprisingly well. It's so cozy and warm, you may never want to take it off!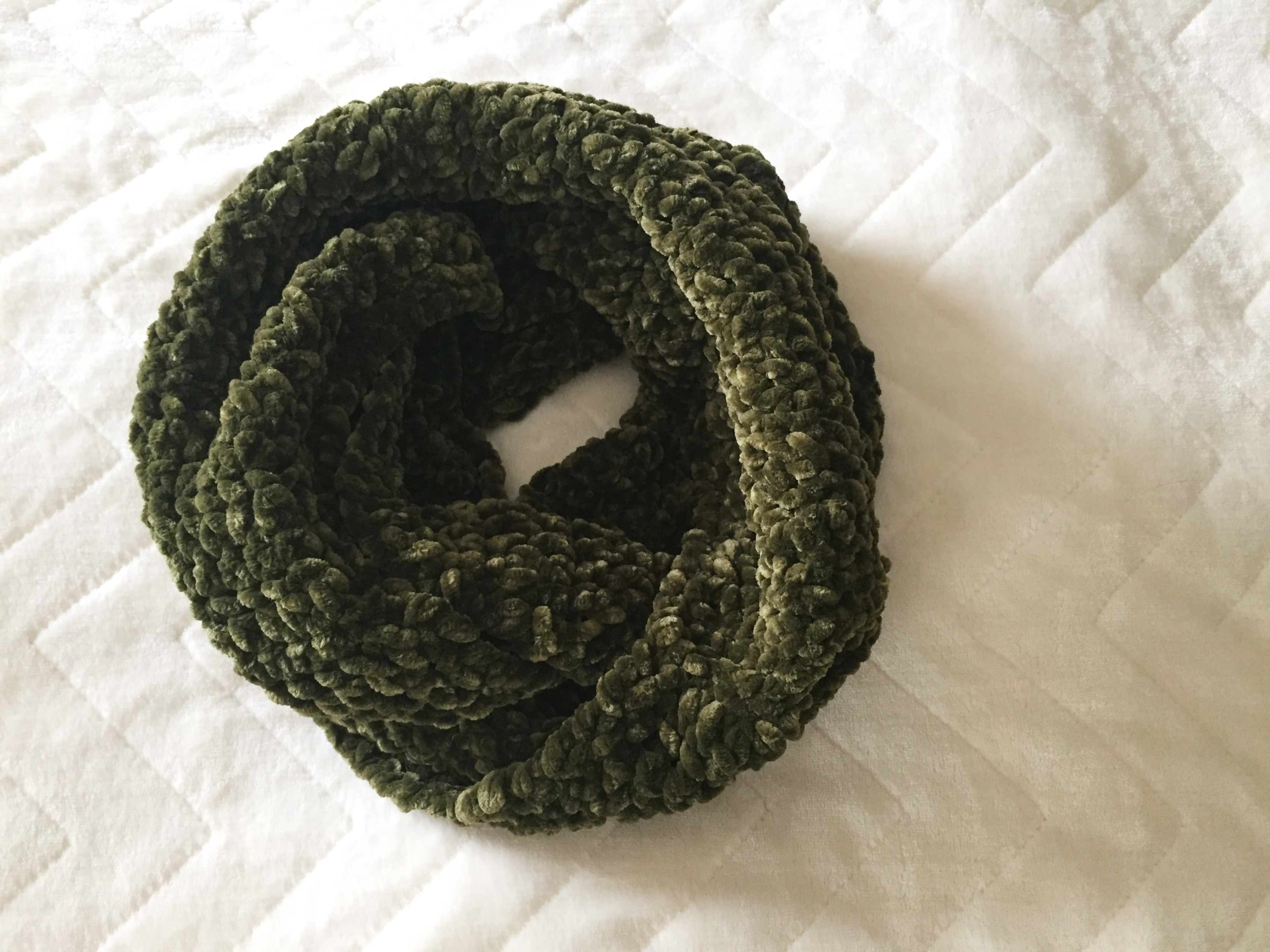 I wanted to make something that used simple stitches and didn't go crazy with any intricate lacework or mesh, since I designed this scarf for much colder temps (even though we don't usually have those here in the Midwest…) and wanted it to be comfortable and warm, as well as stylish. The velvet look is pretty trendy, but the simple two-row repeating pattern keeps this piece timeless and versatile. You could substitute another bulky weight yarn if you're not a fan of the velvet, but trust me, this yarn is heavenly soft and I think you'll want to get your hands on it!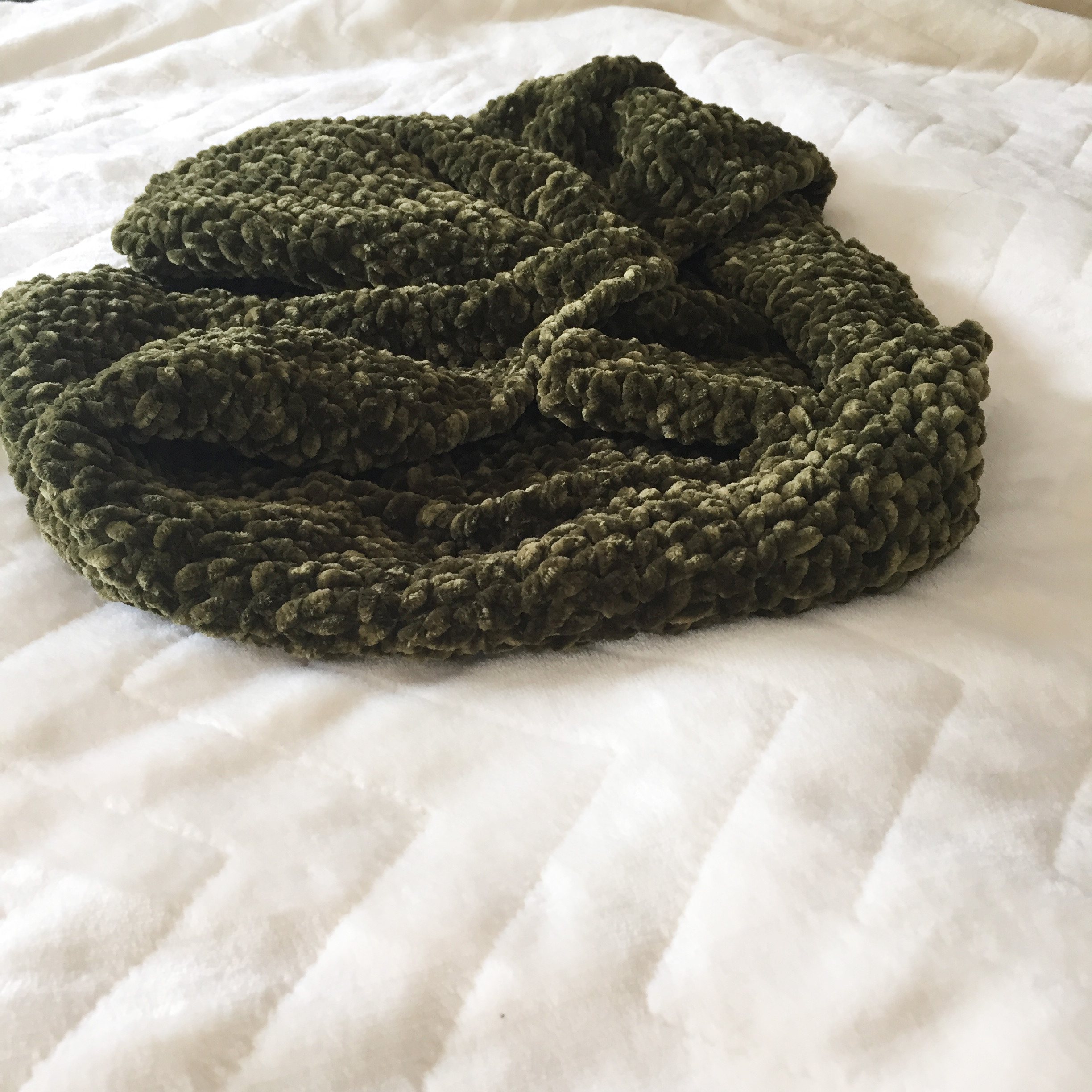 This pattern uses a two-row repeat of double crochet and single crochet stitches, with a simple reverse single crochet border. It's an amazingly easy pattern to memorize and whip up quickly (I made mine in about 4 hours! Though I'm a slow crocheter, so take that with a grain of salt) and work on while you're watching tv. These make a perfect accessory to sell at fall and winter craft shows, or to give as holiday gifts!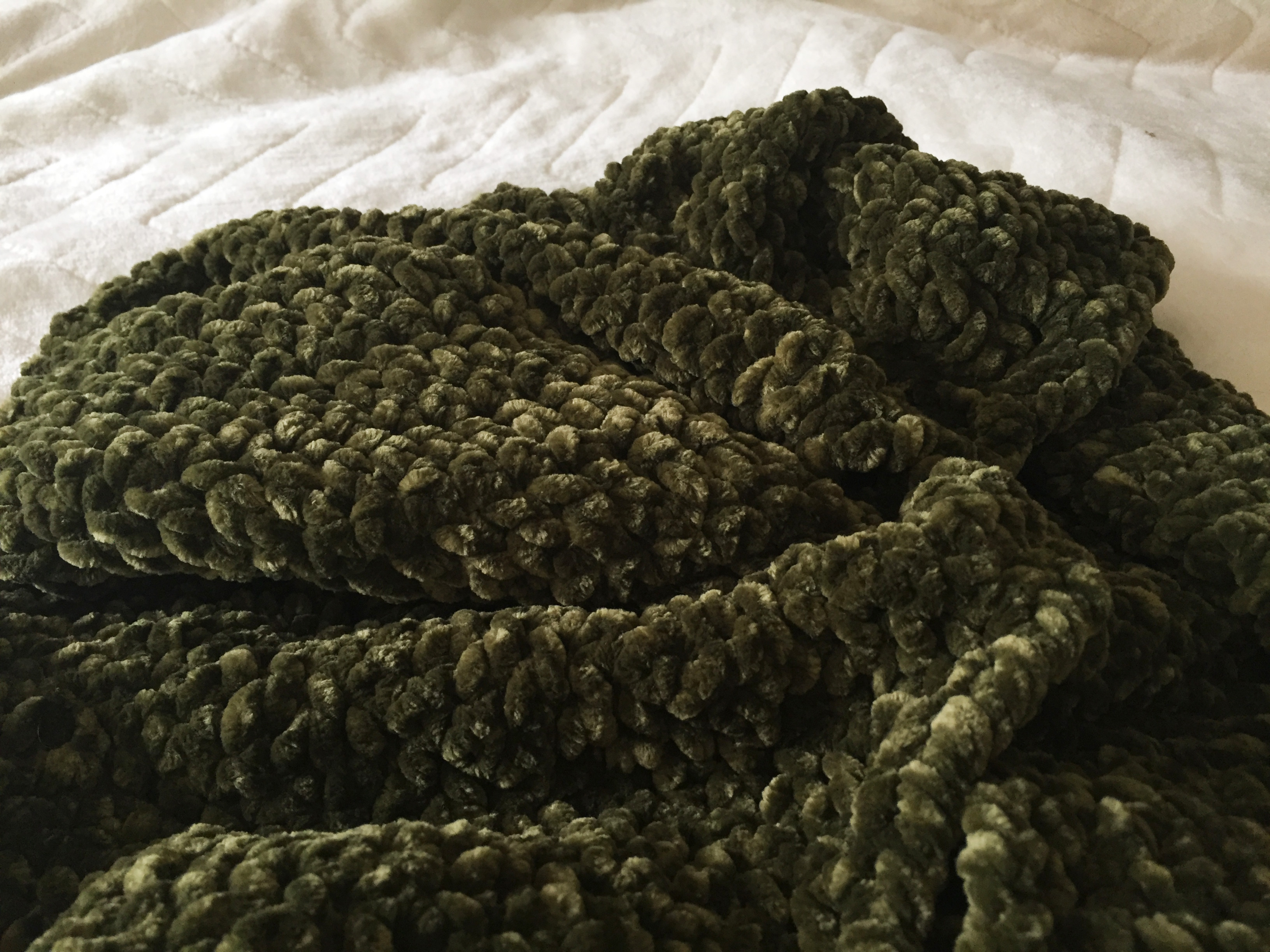 I hope you enjoy making your own as much as I did. If you share your project pictures on instagram, don't forget to tag me with the hashtag #emsfiberarts for the chance to be featured on my instagram page or here on the blog!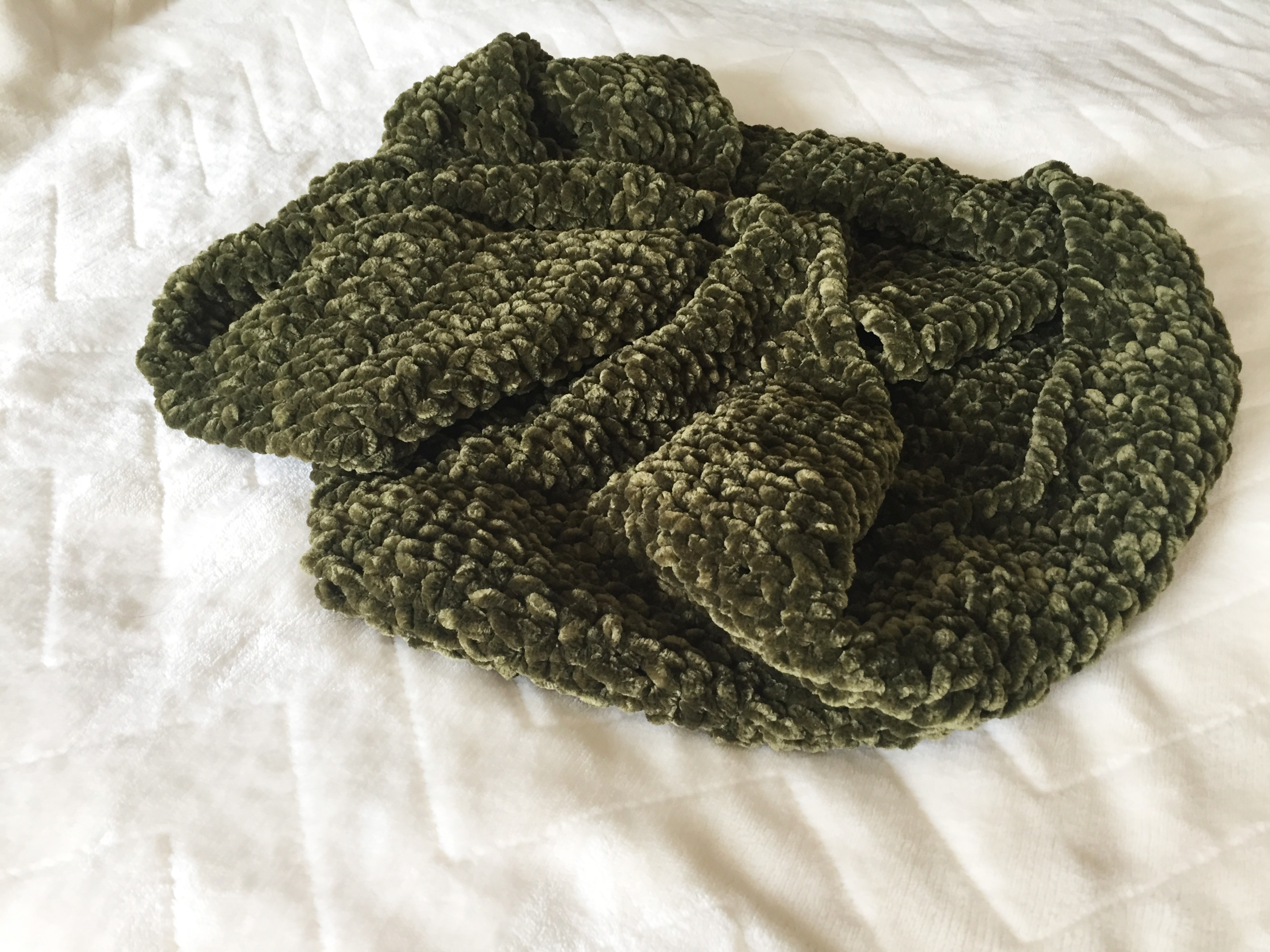 This post may be sponsored or contain affiliate links, which means I may receive a small commission, at no cost to you, if you make a purchase through a link. See my full disclosure in the footer of this page. Thank you for your support!
Pattern
The Velvet Dream Super Plush Crochet Circle Scarf is just like the name says- a crocheted circle scarf made with velvet yarn that's so soft, it's like something out of a dream. Worked in alternating rows of double and single crochet and accented with a reverse single crochet border, this luxurious infinity scarf is easy to work on during a netflix binge and finish up in as little as a few hours. The thick, plush bulky weight yarn forms a near-solid panel that keeps out even the coldest of drafts and retains heat, perfect for those cold late-autumn nights. Curl up on the couch with your favorite tv show and this crochet pattern, and let's get crafting!
Skill level: Easy+
Finished size: Approx. 27″ x 10″
Gauge: 4″ square is 9 dc x 5 rows of alternating dc/sc pattern
Materials:
3 skeins of Yarn Bee's Velvety Smooth yarn or approximately 240 yards of a comparable bulky weight (category 5) yarn
Size 7mm crochet hook (I love these!)
Scissors
Tapestry needle
Clear nail polish (optional- see Notes for more information)
Abbreviations:
st(s) – stitch(es)
ch – chain
sc – single crochet
dc – double crochet
sl st – slip stitch
Special Stitches:
Reverse Single Crochet – This stitch (used for the border) is simply the single crochet stitch, but backwards. Instead of working from right to left, you will be working left to right. To start the round, insert your hook into the next full stitch to your right. Yarn over, pull up a loop. Yarn over, pull through both loops on hook. This is one reverse single crochet. Continue around the edge, always inserting your hook into the next stitch to the right.
Notes: 
This pattern is worked in US crochet terms.
Some words about this yarn: it's beautiful and ultra-soft, but very fragile. Due to the way it's spun (which I can't seem to figure out- if you understand it, let me know!), if you pinch the end of the yarn and pull on it, you'll start pulling out the velvety fibers and expose the thread core. You may want to (gently) tie a knot at the end of your yarn before you even make a slip knot, to secure the fibers and keep them from being accidentally pulled out. When working with it, you need to be gentle with it, and try to keep your tension looser than usual. If your tension is too tight, the yarn will start to appear lumpy and the fibers will look uneven- plus, it'll be near-impossible to frog.
This pattern includes the joining of skeins, which is interesting to try to do with this yarn, so here's how I did it: I tied a knot on the end of my yarn from the new skein and the end of my working yarn (about 5 inches from the very end of the yarn), so the velvet fibers would stay in place above each knot. Then below each knot, I went ahead and pulled the fibers out, to expose the thread core. From there I was able to join the skeins by tying the threads together with a weaver's knot. This worked well for me, but if you're worried about your work coming undone, I would recommend using a tiny bit of clear nail polish or other clear sealant (glue, adhesive spray, whatever you have) and apply it to the knot in the threads. That should help secure the knot. Be careful not to get it on the velvet, though!
Velvet Dream Super Plush Crochet Circle Scarf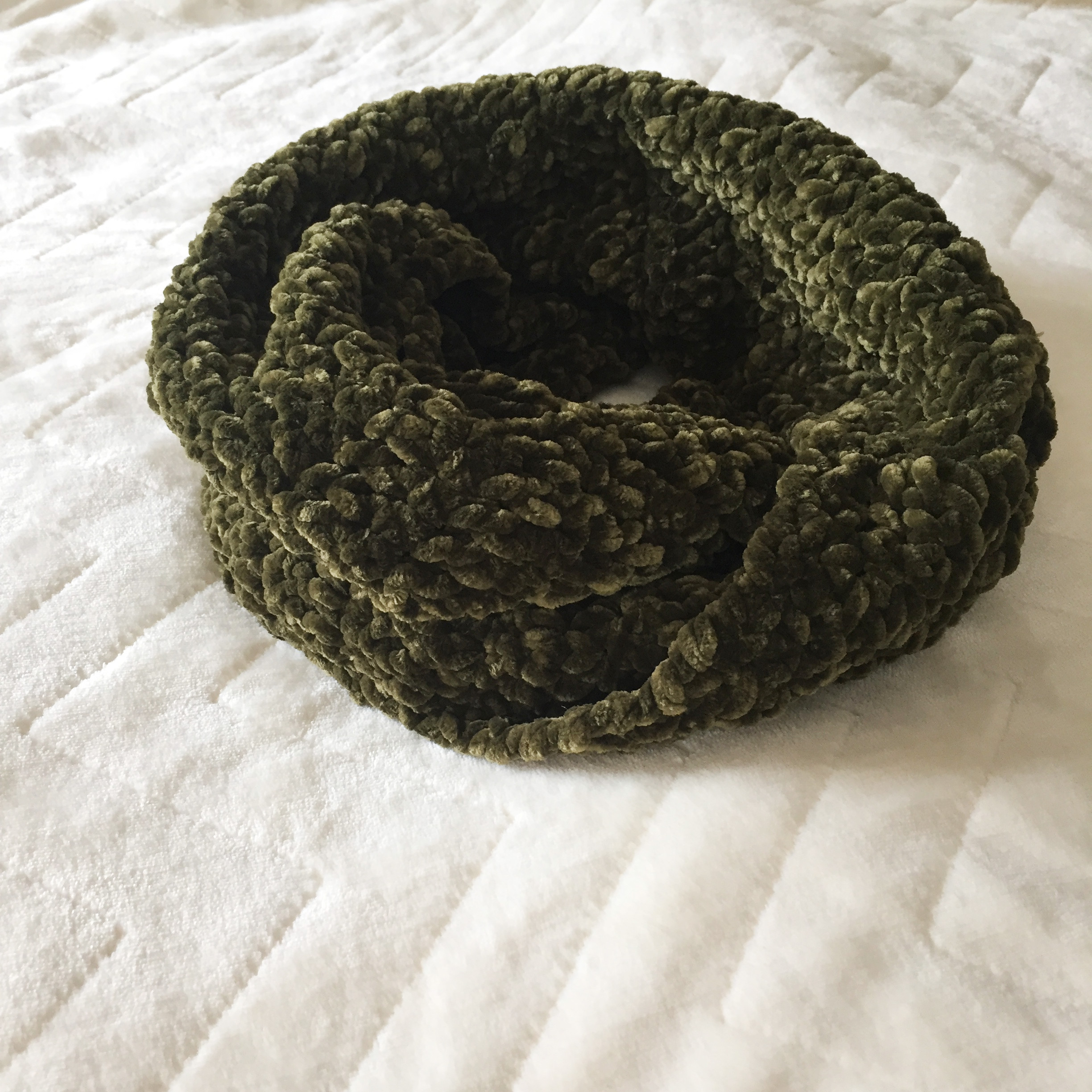 Ch 22.
Row 1: Dc in 3rd ch from hook and in each st across. Turn. (20)
Row 2: Ch 1, sc in first dc and in each dc across. Turn. (20)
Row 3: Ch 2, dc in first sc and in each sc across. (20)
Row 4-86: Repeat rows 2-3. (20)
Join your working yarn to the other end of your scarf. Sl st the ends together to form a circle.
Border:
Ch 1, rsc  (reverse single crochet- see Notes) in stitch behind the chain, to your right. Continue to rsc evenly around. Sl st to first ch. Finish off and weave in ends.
Join your working yarn to the the other side of your scarf, at the end of the seam. Ch 1, rsc evenly around. Sl st to first ch. Finish off and weave in ends.
And that's it! Enjoy your new super-soft circle scarf, and if you post pictures of your project, don't forget to tag me with the hashtag #emsfiberarts for a chance to be featured. I'd love to see what you're working on!
If you're like me and your yarn stash is out of control, or if you have a million works in progress laying around, you don't want to miss out on the simple, easy-to-customize printables I've made to help you organize your projects and supplies! You can sign up for the email list here to get the files and download your own!
Pin this pattern for later: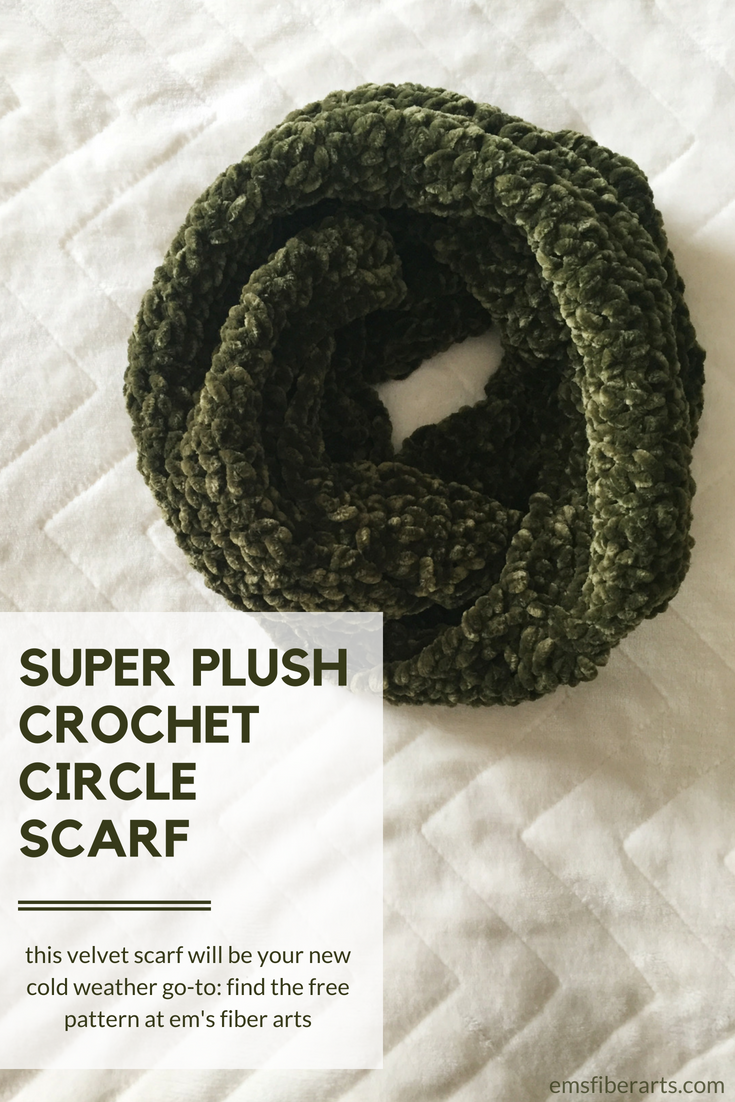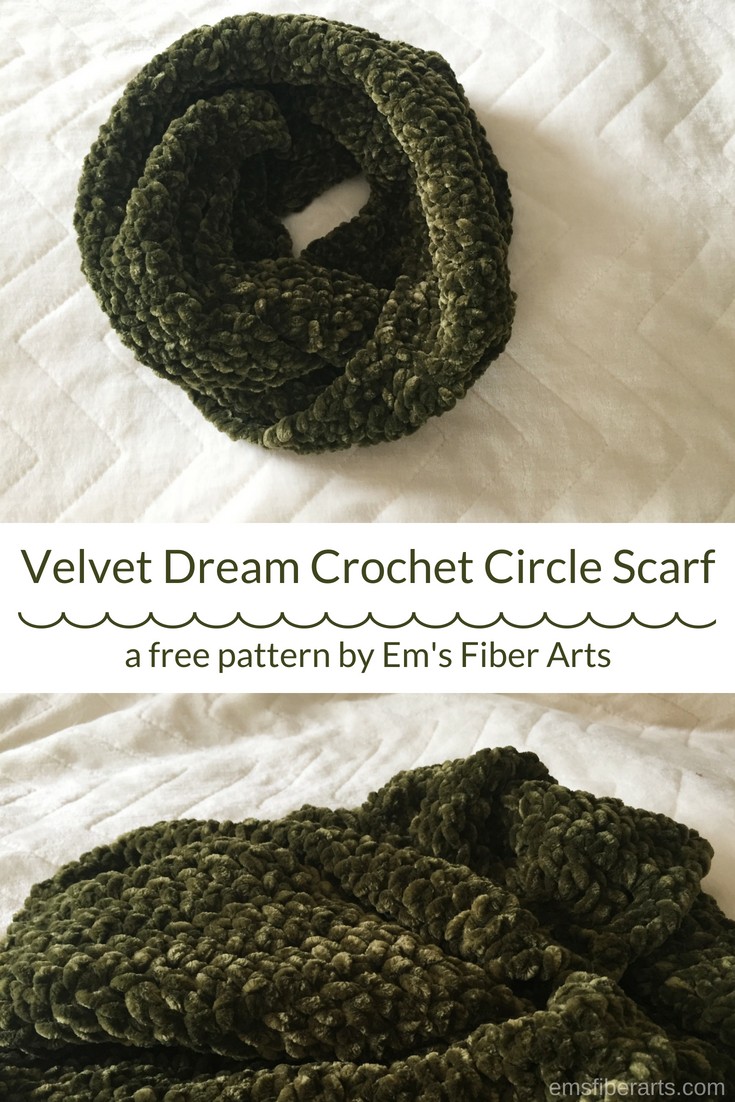 Sign up for the email list to get free crochet patterns, project inspiration and more crochet goodies delivered straight to your inbox!