This post may contain affiliate links. You can find the full disclosure at the footer of this page.
Hey friends! Today I'm sharing some great ways to save tons of money on yarn and fiber. If you're a crocheter or fiber artist, you know how expensive yarn can be, especially if you like to make large projects or use specialty yarns. Over my years of crocheting, I've picked up several ways to save lots of money on yarn. (Now if only I could stop buying yarn when I really don't need it…) From coupons and clearance to cash back programs, I rely on all these money-saving tips to keep my yarn stash full and my wallet happy. Read on to find out the best ways to save money on yarn!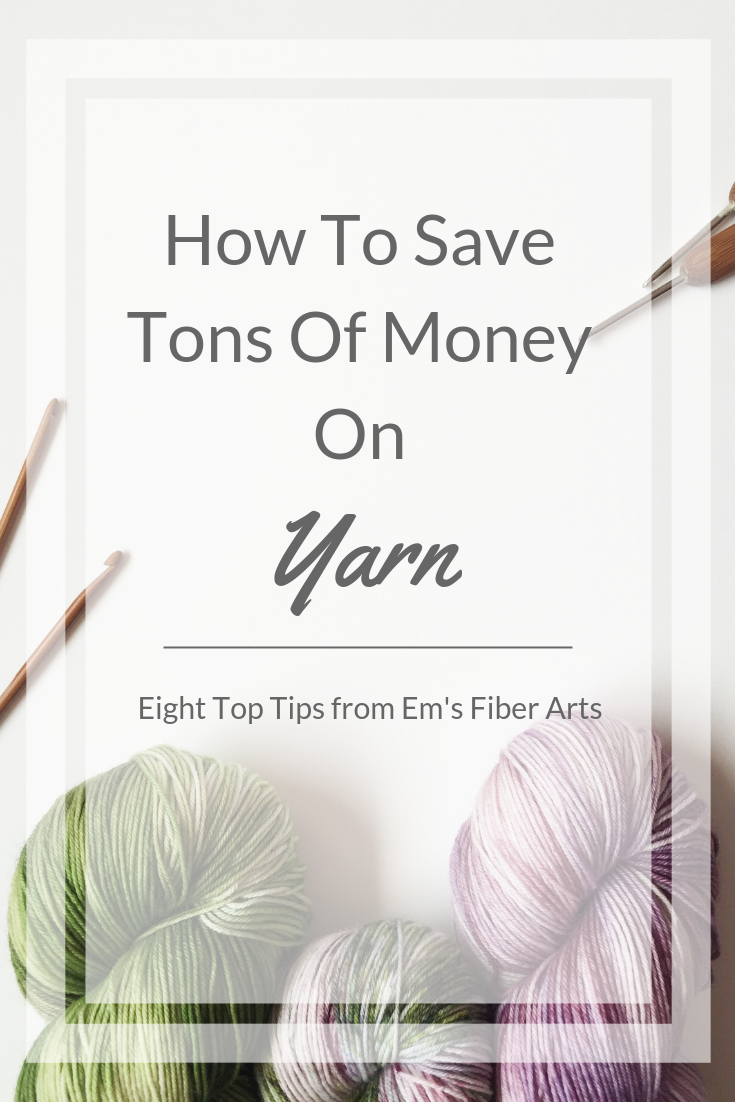 1. Coupons
Starting off with the most obvious: coupons are an easy way to save money on yarn. Michaels and Joann are two big names in the craft store sphere, and both stores have an email list you should subscribe to ASAP. They regularly send coupons and discount codes for all kinds of craft supplies, and lots of times they have coupons for a percentage off of your entire purchase. These are my favorite to use, since sometimes you're able to stack those on top of a sale that they're already running if the coupon includes sale items. For example, if Joann is having a 25% off sale on their Lion Brand Yarn, you could use their 20% your entire purchase coupon on top of that for extra savings. Be sure to read the fine print, since the rules usually vary, but coupon stacking can lead to huge savings!
Another note on coupon stacking: Both Michaels and Joann accept competitor coupons. Do with that information what you will!
2. Clearance Yarn
Clearance yarn, my friends. This is the reason why I have a yarn stash bigger than a small village. Every now and then, a yarn brand will discontinue a line or colorway of their yarn, and then that yarn goes on clearance. Or the season changes, and old products have to be moved in order for new products to take their place, which means that old yarn goes on clearance. Depending on the reason for the clearance and how much the discount is, shopping the clearance section can be one of the best ways to save money on yarn. I'm obsessed with the clearance section; I check it every time I'm in a craft store. You never know what kind of yarn-y treasure trove you might find there!
My top tip for keeping up with huge clearances a store might be having is to check in with an online fiber arts community and seeing if anyone is talking about a big sale going on. I'm a member of Reddit's crochet forum (my favorite crochet community, by the way!) and that's where I keep up with all the good craft store sales.
3. Yard & Estate Sales
If you're looking for dirt-cheap yarn, make sure to stop by some local estate sales on your way to the craft store! You can often find secondhand yarn and other fiber art supplies at estate sales, and for super low prices. Sometimes the yarn is being sold as a lot deal, so you can get a big bag of yarn for a flat fee. Check Facebook to see if there are any estate sales going on near you.
Another place to look would be thrift, antique, or secondhand stores: they're similar to estate sales in the way that you can sometimes find big lots of craft supplies for super cheap. Example: a friend of mine went to an antique store in her hometown, and scored two HUGE bags of yarn for $13. We're talking 30 or so skeins, some semi-used and some brand new, in a whole rainbow of colors, brands, and fibers. For thirteen dollars! Seriously, go check out your local secondhand shops.
4. Craigslist
This is kind of in the same vein as shopping an estate sale, just online. Most of the time you'll find lot deals being offered on Craigslist, and you can save lots of money on yarn that way. Make sure a listing for yarn includes pictures, that way you can get a feel for what kind of yarn is in the lot and what kind of condition it's in.
5. Cash Back Programs
Another great way to save money on yarn is by shopping through a cash back program. This option works well if you like to order your yarn online, since using the programs involves shopping on the store's website through the program's referral link. The program earns a commission for referring you, and then they share that commission with you as a thank you. I've listed some of my favorites below!
Ebates: Ebates makes it easy to earn cash back on all your regular online shopping. They have both Michaels and Joann on their site, so that means free cash back on all your yarn purchases! Occasionally, Ebates will also have Daily Deals that allow you to earn extra cash back or use a discount code for a certain store. You can sign up for Ebates here (it's completely free) and earn a $10 bonus!
Swagbucks: Like Ebates, Swagbucks rewards you for shopping online through their program. They give you Swag Bucks for shopping, which you can then turn into cash and gift cards. You can also take surveys, watch videos, play games, and more! My favorite way to use Swagbucks is by shopping, though. They have Michaels, Joann, Etsy, and tons of other craft stores to choose from! You can sign up for Swagbucks here and get a 300 SB bonus.
Ibotta: Ibotta is similar to the first two in that it gives you cash back for your purchases, but this program works primarily as a mobile app that you use to scan your shopping receipts. You can select offers to redeem from certain stores (for yarn buying, you'll want the 10% cash back at Joann), then scan your receipt after you've shopped and submit it to Ibotta. Then they give you cash back! It's so easy, I've used it for years and I can't recommend it enough! Sign up here to claim your $10 welcome bonus.
Another good idea is to use these cash back programs for your regular grocery or online shopping, then use the cash you earn from the programs to buy yarn!
6. Use Upcycled Materials
You can make your own DIY yarn buy using t-shirts, fabric, even plastic bags! DIY yarn may not be suitable for every project, but it's definitely a fun experience, and if it's made from material you already have then hey, it's free! You can find lots of tutorials on how to make your own yarn on Pinterest, along with project ideas and inspiration. Think t-shirt yarn baskets, plarn (plastic yarn) tote bags, and more!
7. Unravel Thrift Store Sweaters
Another form of DIY-ing your own yarn is to unravel an old sweater and use the yarn from that. Pinterest is a great resource for this, and you can find lots of tutorials on how to unravel a sweater for maximum yarn gain. Look for sweaters made of nicer material like wool, silk, or cashmere, since the yarn will usually be in a little bit nicer condition. You'll save money in the long run, since natural fiber yarn can be expensive when bought new, and sweaters from thrift stores are generally pretty cheap.
8. Find Small Projects To Use Up Scrap Yarn
If you're like me, you probably have a box or bag of leftover yarn from previous projects that you're not really sure what to do with. Instead of buying more yarn for your small projects, try to use up some of your leftovers and scraps! Projects like keychains, mug and cup cozies, bracelets, boot cuffs, and phone cases are simple and make great gifts. You can also consider donating your small projects if you don't have any use for them, but still want to use up your scrap yarn.
I hope you enjoyed this list! Hopefully these tips will help you save big on your next yarn purchase. If you have any questions or comments, leave a comment below or reach out to me on any of my social media! I'll be glad to hear from you.
Pin this post for later: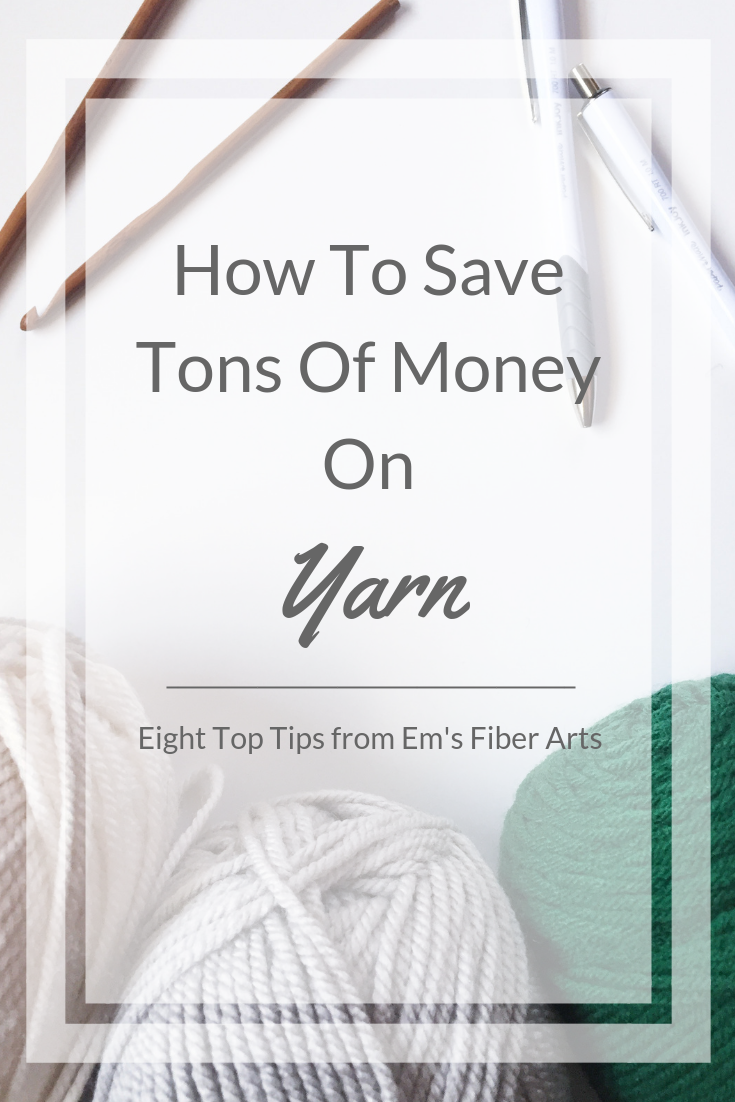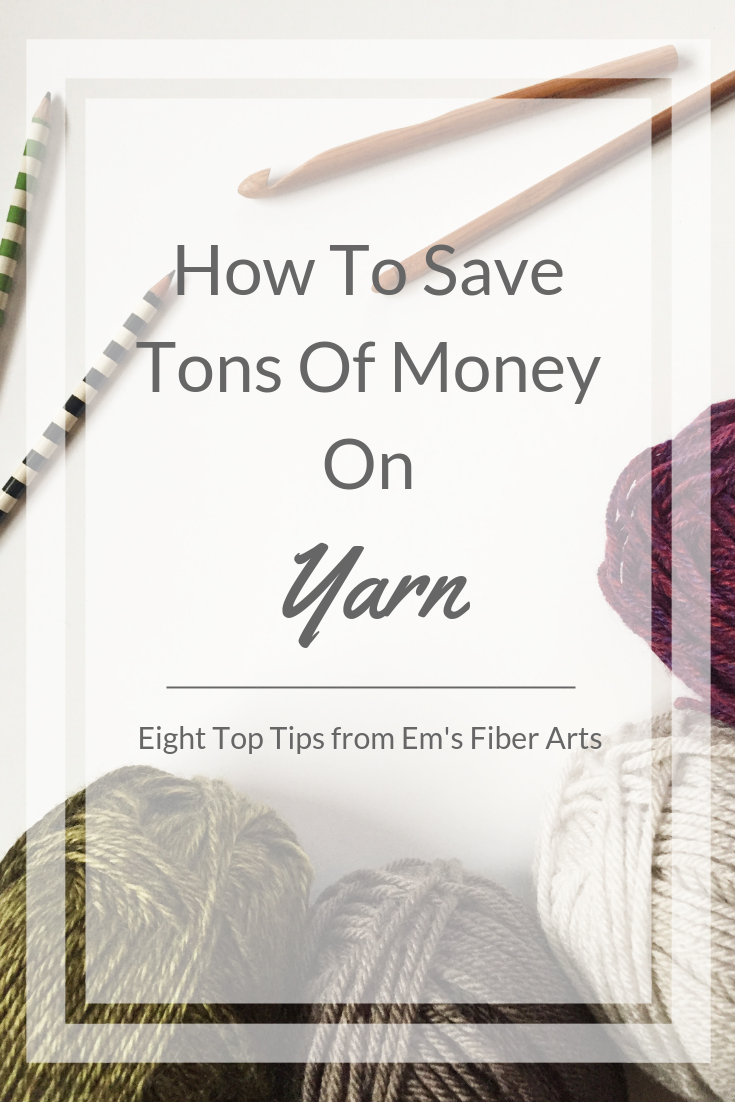 For more yarn-related tips and crochet goodies, sign up for the email list! You'll receive blog post updates, discounts and sales on my for-purchase patterns, and more!
What are your favorite ways to save money on yarn?
This post may contain affiliate links. You can find the full disclosure at the footer of this page.